You won't find any apples in it. You won't find any oranges in it either, for that matter. Just lots of chemicals and a healthy helping of national pride.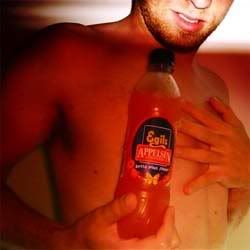 Most nations have their own version of Fanta; Britain has Tango, France has Orangina, and Iceland's Appelsín is our version of a sticky orange drink. However, because it's Icelandic it automatically qualifies as the best sticky orange drink in the world. Learn not to argue, and whatever you do, don't demand a blindfolded taste-test — people have been deported for less.
The name "Appelsín" may be a bit misleading to English-speaking visitors, but the liquid's radioactive-orange colour (along with the fact that the Icelandic word for "orange" is appelsina), makes the drink's taste much less of a mystery.
You may also be a bit uneasy about the fact that, while your bottle of Appelsín hasn't ever seen an apple in its life, it's highly unlikely it's ever seen an orange, either. Unlike Fanta, which contains at least 7% orange juice, Appelsín's ingredients list only water, flavouring, colouring, acid, and sugar. But let's face it, these are the exact things you're going to need when you wake up with your first classic Reykjavík hangover.
Appelsín is sold in all stores and most bars across Iceland. Impress the locals by asking for it by name. Astound them by slamming it with tequlia.
Previously on Cultural Learnings of Iceland to Make Benefit Glorious Nations of the World: Skyr, Kókómjólk, and Lýsi.